5 WAYS AFRICAN CULTURE IS INSPIRING FASHION TRENDS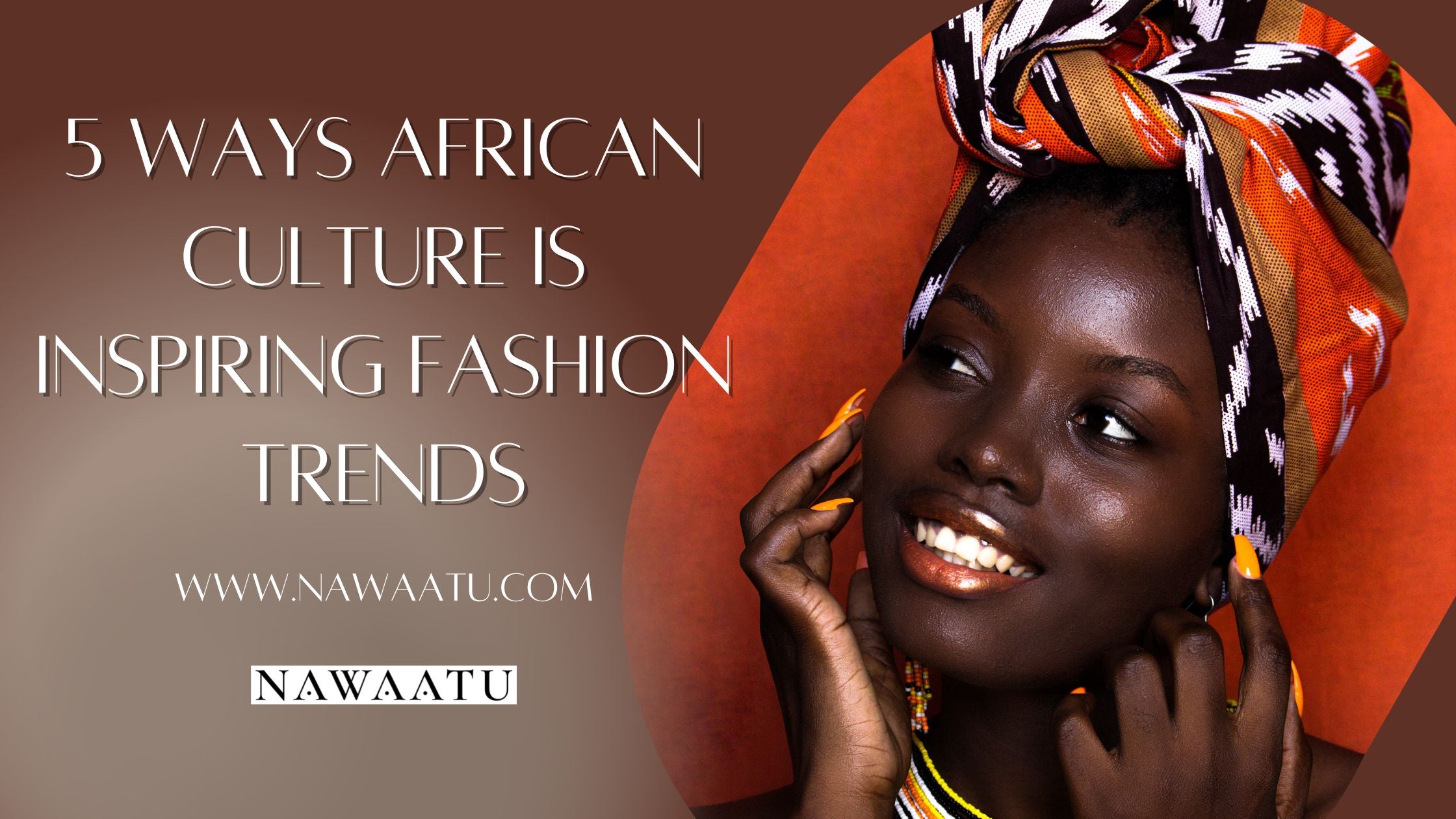 While some renowned trends, both past, and present, have their roots in African culture, these African-inspired trends are frequently overlooked and unacknowledged for their vital contributions to the western fashion industry.
It's no secret that in the constant search for the next hot trend, fashion trends frequently borrow extensively from African culture. This impact was largely acceptable until fashion houses and retailers refused to disclose where their inspiration comes from.
In a nutshell, African fashion is both gorgeous and daring and should be credited where necessary. We at Nawaatu are proud of our African heritage and want to remind you of how African culture is now inspiring current fashion trends.
 1. Big Sleeves Are The Way To Go:
 Fashion in 2022 is all about making a powerful statement. With striking puffy sleeves, you accomplish your desired look and add more style to a casual attire. This sophisticated design trend is a mash-up of local African fashion and garments inspired by the 1980s.
However, to draw emphasis to your sleeves, keep the rest of your clothing simple and classic. Big sleeves will make your clothing appear unnecessarily fussy if the rest of your outfit is too flashy.
2. Show Some Skin With An Off-The-Shoulder Look:
Off-the-shoulder fashion was one of the most popular in the 1980s. It has been worn by some of Africa's most fashionable women. This fashion trend is for women who wish to show a little skin without being overly exposed. It looks great with both blouses and dresses and will help you make a striking fashion statement.
Check how to wear this Nawaatu's off-the-shoulder dress 
3. Opt for a kaftan:
The kaftan trend originated in Africa and is popular for its versatility and comfort. Both tribal and modern African women wear these flowing, flowy, and stylish attire.
By altering the length of a kimono, you can transform it from traditional to modern. You can change the style however you want. This fashion style is appropriate for both casual and formal attire.
4. Statement Jewelry:
 Wearing statement jewelry has virtually become a rite of passage for many African women who began wearing it in their adolescence. Many African female revolutionaries began rocking hoops as a symbol of their strength and solidarity in the 1960s and 1970s. By that time, this fashion accessory had become a mainstay in the African community, with several Black designers designing intricate and striking designs that would make anyone drool.
Take a look at our eye-catching statement accessories here.
 5. Vibrant Prints:
Most people immediately associate rich and vibrantly colored clothing with African people. The provenance of popular prints such as African wax print or Ankara, on the other hand, has been contested. This is debatable, as West Africa traditionally has a sizable textile market.
But there's no doubting that the way the African population has styled a variety of designs continues to impact the fashion industry. Brands like Nawaatu continue to pave the way for modernizing African fashion and prints.
Check Nawaatu's new Ankara Prints Collection Here.
In Conclusion
Nawaatu is proud to be a part of the community that is setting the standard for African-inspired fashion. We believe in pushing limits and taking style to the next level. That is what motivates our contemporary approach to African fashion. So, the next time you meet someone rocking a trendy print or wearing a statement piece, be proud. Remember that our forefathers were the founding fathers.
Do you have any other examples of African-inspired fashion? Please tell us about them in the comments section below.